The Autobianchi A112 Abarth is a compact hatchback featured in the Choro-Q series; it appeared in Choro-Q 3.
Real Life Info
Edit
The Autobianchi A112 was a compact hatchback produced from 1969-1986, produced using mechanicals from the Fiat 127 and a smaller version of the Fiat 128's frame. Since the version in the Choro-Q series is an A112 Abarth model, this page will focus on the A112 Abarth.
In 1971, an Abarth version of the A112 was introduced. It used a 1.0-liter OHV inline-4 producing 58 hp and 54 lb/ft of torque. The only transmission available was a 4-speed manual transmission. Abarth models were equipped with sport suspension, sport exhaust, twin carburetor, heavy-duty radiator, and sport seats.
In 1975, the engine was increased in size to 1.05-liters, now producing 70 hp and 63 lb/ft of torque. Models with the larger engine were known as the A112 Abarth 70, while the base engine model became the A112 Abarth 58.
In 1976, a hood scoop was added. In late 1977, styling revisions occurred on the exterior. A 5-speed manual transmission became available in 1979.
In 1984, a red rear panel with the Abarth logo and "ABARTH" was added between the tail lights, moving the rear license plate down to the rear bumper.
Choro-Q 3
Edit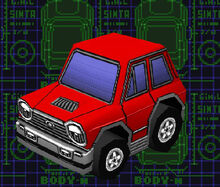 The Autobianchi A112 Abarth is body number 094 in Choro-Q 3.
Appearances
Edit
Community content is available under
CC-BY-SA
unless otherwise noted.